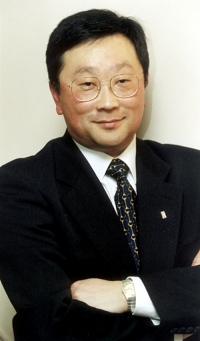 New Silk Road Award Honors for 2007

John S. Chen
Chairman, CEO and President

Sybase, Inc.The New Silk Road Award for 2007 will be accepted at Asia Night by John S. Chen, Chairman, CEO and President of Sybase Inc. This Award is given annually by the California-Asia Business Council for outstanding contributions to business ties with Asia.
With one foot in Asia, where he was born, and the other here, John Chen has made Sybase the largest enterprise software and services company exclusively focused on managing and mobilizing information. He has headed the company since 1998.
Mr. Chen is being honored for building strong Asian markets for American technology in China, Japan, Korea and elsewhere in Asia, and for vigorously championing the expansion of healthy US-Asia commerce in Congress and in industry and policy forums.

John Chen serves on the President's Export Council and as co-chairman of the Secure Borders and Open Doors Advisory Committee, and on the boards of the Walt Disney Company and Wells Fargo & Co. He is part of the prestigious Chinese-American leadership group, the Committee of 100.

Before joining Sybase, Mr. Chen held positions as president of the Open Enterprise Computing Division of Siemens Nixdorf, and chairman and CEO of Pyramid Technology. He graduated magna cum laude from Brown University, and holds a MS degree from California Institute of Technology.

This year's award is comprised of a Laotian hanging hand-loomed in gold, silver and black silk.

Previous award recipients have included former US Secretary of State George Shultz; US Senator Dianne Feinstein; Washington SyCip, known as the "Wise Owl" of Asian business; and Dr. Daniel K. H. Chao, then Chairman of Bechtel Greater China and currently Chairman Emeritus of Cal-Asia.